Why this energy company is investing many millions of dollars on two Jacksonville locations
Two projects on either side of the city from Eagle LNG means tens of millions of dollars in investment in Jacksonville from the major natural gas company.
Earlier this month, Eagle LNG broke ground on its Maxville facility, located at the intersection of 301 and 228.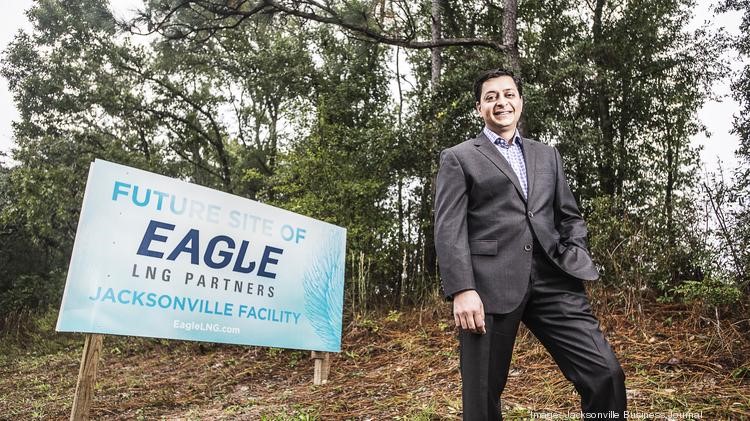 That liquefaction plant will be served primarily by Crowley Maritime Corp. to fuel their liquefied natural gas-powered ships, due to arrive at the end of 2017. The plant will begin producing LNG in the first half of 2017, said President Sean Lalani, in an exclusive interview with the Business Journal.
To build the liquefaction plant, the site will first be prepared to have concrete poured, checked for foundational stability and that it has the appropriate stormwater runoff slope. Then, construction can begin on the largest part of the project, a 1 million gallon storage tank. Lalani said building the concrete structure will take the longest amount of construction time, but once that is done the liquefaction plant and compressor stations can be built.
"It will then be put together like Lego blocks, on site," he said.
To get to that point, Eagle LNG had to obtain state and local permits, mainly through the Florida Department of Environmental Protection and the City of Jacksonville for building permits. Lalani said the company also worked with the Florida Department of Transportation in respect to determining the transportation impact, as well as the U.S. DOT Pipeline and Hazardous Materials agency. Lalani said permitting began in December.
Getting approval for the Maxville site is significantly less strenuous than its other Jacksonville location off Zoo Parkway. That facility, a site for exporting LNG, will take years for approval. Eagle LNG first started looking at the site in late 2013 and began getting Federal Energy Regulatory Commsission — FERC, the regulatory agency for exporting fuel — approval in 2014. But Eagle LNG doesn't expect permission until 2017 and for ground to break until about early 2018.
Although the company declined to share precisely how much it would be investing in the projects, it's putting the figure in the tens of millions of dollars. To build the Maxville site, Lalani said more than half of the contractors used will be local.
With Crowley as a primary partner and Jacksonville's location providing easy exporting access to the Caribbean and South America, Eagle LNG sees major opportunity in Jacksonville. But Lalani said the company is so invested in the city because of the city itself.
"Jacksonville and the community is such a pleasure to work with," he said. "Which is all we ask for as a developer who wants to put money in Jacksonville. It's a community that wants to listen and learn and wants to be innovative. It's refreshing to us."